Hybrid clouds usage and popularity are increasing every passing day. And, the reason is not surprising at all! Hybrid cloud is introducing a new technological system to businesses enabling them to perform better. It's enhancing their cloud capabilities by allowing them to migrate apps and share data across multiple clouds.
What is it?
To start with, incorporating services from the public cloud, private cloud, and on-premises infrastructure makes up the hybrid cloud.
It delivers management, automated configuration, and portability of applications across the public and private cloud networks and on-premises infrastructure.
How Does A Hybrid Cloud Work?
It combines the functions of both public and private clouds to give its users a better overall experience.
It works by combining the infrastructure of local data center assets with resources of public and private clouds.
It's modern architecture focuses on enhancing the workload's portability throughout the cloud environments.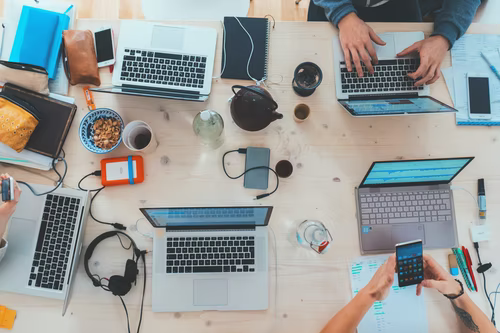 6 Benefits of Shifting To A Hybrid Cloud
Consider the following six main benefits of shifting:
1.Increased Productivity
Firstly, through it, productivity level increases. Consequently, organizations can quickly adopt different methodologies, such as agile methods.
2. Efficient Infrastructure
Secondly, hybrid clouds provide extra control. Hence, the infrastructure becomes more efficient.
3. Accelerated Business
In addition, it gives a boost to all businesses by accelerating innovation.
4. Improved Security
With its help, compliance regulatory and overall security across the entire organization is enhanced.
5. Saves Time
Moreover, by accelerating every area of work, it saves quality time. So, all products, services, and applications are delivered at a faster pace.
6. Flexibility
Last but not least, It makes organizations more flexible in their work.
3 Drawbacks of a Hybrid Cloud
Besides the vast list of advantages, there are three drawbacks, as mentioned below:
1. High Investment
High investment is needed to develop an enterprise cloud.
2. Bottlenecks
The transmission of data across public and private clouds often results in network bottlenecks.
3. Cloud Compatibility
This issue is mainly related to its infrastructure. As a result, it can decrease the overall performance level of the system.
Conclusion: Should You Shift?
In conclusion, It is trending in every IT department. It is highly efficient in increasing the agility of IT teams. Among all cloud environments, Hybrid cloud leads the list of best deployment models.
According to 2019's Enterprise Cloud Index, 85% of companies chose a hybrid cloud as IT's ideal operating model — another reason to shift to a hybrid cloud.
So, if you are ready to make a shift, check out the best deals for hybrid cloud services by AiNET — experience hybrid cloud's tremendous advantages and success for your business.