The introduction and the ever-growing popularity of cloud technology have changed the IT landscape globally. More and more companies are now moving their IT infrastructure to the cloud to make the most out of it. However, it is often not possible for businesses to migrate the entire infrastructure to the cloud for various reasons. In such a scenario, they may choose to adopt a hybrid IT strategy.
The approach of hybrid IT infrastructure is to divide the IT infrastructure between cloud and physical server. While for some, it is a blend of cloud server and on-site infrastructure, it is a hybrid of colocation and cloud for others.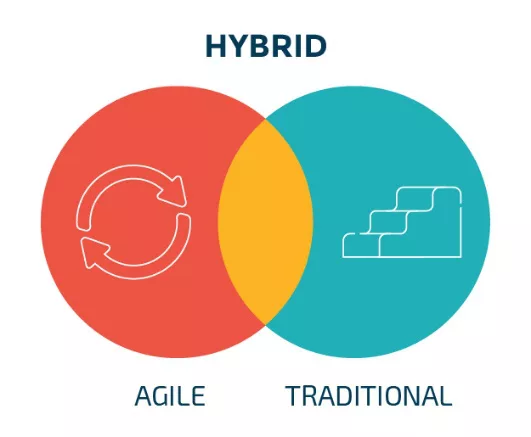 Why do enterprises adopt a hybrid IT solution strategy?
Cloud is agile, scalable, and reliable, but some enterprises are hesitant about moving their IT set up to the cloud. Many causes make businesses skeptical about cloud technology. Some of them are hardcore practical reasons while the others are not so rational.
The main reasons that restrict enterprises from migrating to the cloud are the issues like security, compliance, dependency on legacy software, and cost. While a company deals with sensitive data like their client's financial information, it may be too risky for them to operate entirely on the cloud. They may even face compliance issues if they move the sensitive data to the cloud. Regulations of different states and countries require businesses to keep confidential data on-premises.
Many enterprises depend on legacy apps and software for their critical business operations. They can't get rid of these apps momentarily to migrate to the cloud.
Cost is another factor that makes it difficult for companies to migrate to the cloud at one go. The initial cost of adopting a cloud model can be burdensome for many.
Apart from these, some enterprises do not want to migrate simply because they are not confident enough. They want to test the water before deciding. Besides, people, including business owners, still believe in some myths about cloud technology. That makes them doubtful about the reliability of cloud infrastructure. They often migrate a part of their infrastructure to the cloud to see how it goes.
How to manage hybrid IT infrastructure?
The hybrid IT model has many advantages as it allows you to benefit from the bests of each infrastructure. However, one of the main challenges is its management. Managing the hybrid infrastructure is particularly more difficult for small and medium-sized businesses. Depending on the plan offered by the cloud service provider, the companies often need to assume the responsibility of managing the security, backups, and configuration. In addition to this, they also need to manage their on-site data center.
Colocation can help them to lessen the burden. However, businesses still may need to hire a professional who is well-conversant in the hybrid IT model. Before adopting a hybrid approach, they need to have an effective plan for how to go about it. The process can be complex and technologically challenging. Maintaining the coordination between the two IT infrastructures is another challenge that businesses need to consider before making a decision.
Solution providers who offer both colocation service and cloud infrastructure can be the perfect solution to handle all these challenges. Service providers like AiNET, provide an end-to-end solution to the businesses that want to benefit from the hybrid IT model. They provide guidance on how to adopt hybrid IT infrastructure based on the client's particular requirements. The coordination between the two infrastructures also becomes more efficient while the same solution provider manages them. It helps in reducing complexities by eliminating the scope of miscommunications. While they take care of your entire hybrid IT infrastructure, you can focus on your core business in peace.
Contact us at AiNET to know more about hybrid infrastructure and its benefits. Let us help you grow your business with our world-class services.